Farmhouse kitchen sinks can be installed as undermount or overmount sinks, depending on the design and installation preference.
Traditionally, farmhouse sinks were installed as overmount or "drop-in" sinks, where the sink is placed on top of the countertop with the rim exposed. However, many modern farmhouse sinks are designed to be installed as undermount sinks, where the sink is mounted underneath the countertop for a more streamlined look.
It's important to note that not all farmhouse sinks are suitable for undermount installation, so it's essential to check the manufacturer's recommendations before making a purchase. Additionally, installing an undermount sink requires a bit more skill and effort than installing an overmount sink, so it's typically recommended that you hire a professional to do the job.
Pros and Cons of Farmhouse Kitchen Sinks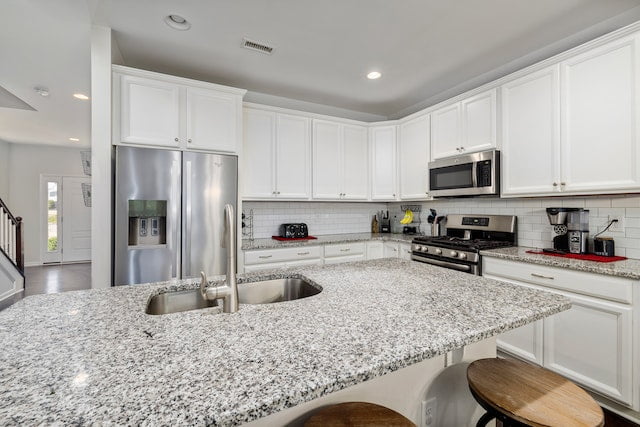 Farmhouse kitchen sinks have become a popular choice for homeowners looking to make a statement in their kitchen. With their deep, exposed front, they create an old-fashioned charm and can be installed as either drop-in or undermount models. While these sinks offer a unique look and plenty of practical benefits, there are also some considerations that need to be taken into account before making a purchase.
The main benefit of farmhouse kitchen sinks is that the large basin provides plenty of space for washing dishes and preparing food. Additionally, many come with features such as cutting boards or colanders that make it easy to multitask without taking up additional counter space. As mentioned before, these sinks can also be installed as either drop-in or undermount models depending on the desired aesthetic.
On the downside, farmhouse kitchen sinks may not fit with all types of countertops due to the deep bowl design. They are best suited for granite or quartz countertops since the lipless undermount design creates a seamless look between the sink and the countertop surface. Additionally, installation can sometimes be tricky if you don't have experience dealing with plumbing fixtures and it's often best to hire a professional if possible.
When deciding whether or not to install a farmhouse kitchen sink, it's important to weigh both the pros and cons carefully before making your final decision.
Also Read: How Wide Is a Farmhouse Kitchen Sink?