A farmhouse kitchen is a style of kitchen design that calls upon the rustic, cozy charm of traditional farmhouses. This style typically features classic accents, such as exposed wood beams, shiplap walls, and antique furniture pieces.
The colors used in a farmhouse kitchen often evoke the feeling of a countryside home, with muted earth tones like sage green, wheat beige, and rich browns.
These colors are often paired with light-toned countertops and floors to create a warm and inviting atmosphere. Additionally, modern touches such as stainless steel appliances can also be incorporated into a farmhouse kitchen for a more updated look.
Cabinet Options
When it comes to adding the perfect finishing touch to your modern farmhouse kitchen, nothing is more important than the cabinets. To achieve a classic rural feel, opt for cabinets in warm and inviting colors such as sage green, wheat beige, and rich browns. These muted earth tones will create an inviting atmosphere in the room.
For added drama, try pairing these hues with light-toned countertops and floors for a look that exudes rustic charm yet still feels modern. If you want to add a splash of color to the room, consider painting the cabinets a deep red or navy blue for a unique touch.
No matter what style or color you choose, when paired with other elements like exposed wood beams and vintage furniture pieces, your modern farmhouse kitchen will have an unmistakable country chic vibe.
White Cabinets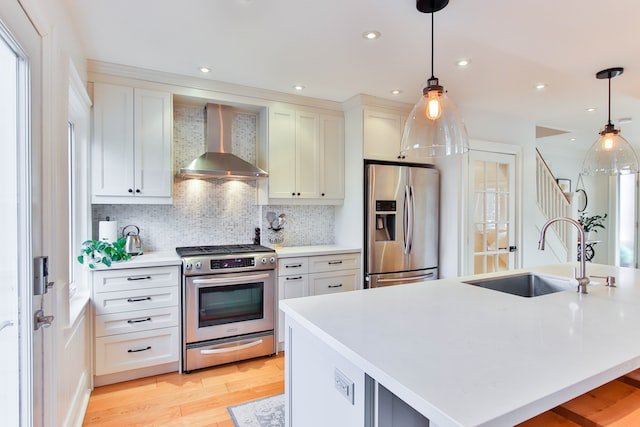 White cabinets are a timeless classic for the modern farmhouse kitchen. Not only do they create a bright and airy atmosphere, but they also pair perfectly with a range of decor styles. Whether you choose to pair white cabinets with light-toned countertops and floors, or with bold and vibrant color accents, this hue will add a touch of sophistication to any space.
To maximize the effect, consider adding glass doors and hardware in dark metals such as bronze or black. This contrast between light and dark will create an eye-catching look that is both modern and inviting.
For an even more dramatic look, opt for white cabinets combined with gleaming stainless steel appliances for an ultra-modern feel. No matter what style you choose, white cabinets are sure to bring classic elegance to your farmhouse kitchen.
Darker Colors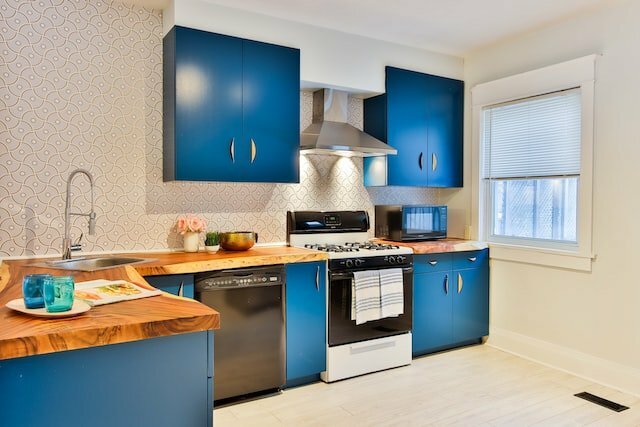 Darker colors are the perfect choice for adding drama to a farmhouse kitchen. Rich hues of navy, charcoal, and black can create a cozy atmosphere that feels both modern and classic.
These shades look especially great when paired with natural woods like maple or cherry as well as artisan-crafted tiles. To maximize the effect, choose hardware in tones such as brass or gold to add warmth and depth to the space.
Darker cabinets also pair well with lighter countertops such as white marble or quartz for a sophisticated finish. For an even bolder look, consider incorporating bright pops of color throughout your design scheme. Colors such as red, yellow, and green offer an unexpected contrast that is sure to make your farmhouse kitchen stand out from the rest.
Shaker Cabinets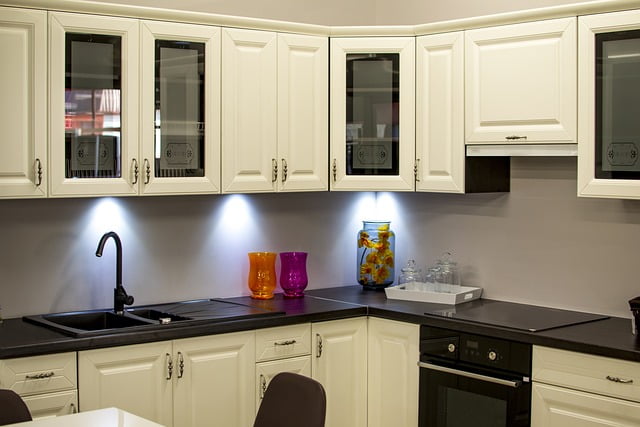 Shaker cabinets are a classic choice for farmhouse kitchens, offering a timeless aesthetic that is both elegant and casual. The minimalistic design of these cabinets complements the rustic charm of farmhouse decor.
Shaker style cabinets feature simple flat panels and raised-panel doors in solid colors such as white, cream, or gray. These versatile options can be dressed up with colorful hardware and knobs or left plain for a more subtle look.
For an added touch of warmth and texture, consider pairing your shaker cabinets with rustic wood countertops such as walnut or oak. Shaker cabinets will bring a timeless appeal to your farmhouse kitchen that you'll enjoy for years to come.
Cabinet Doors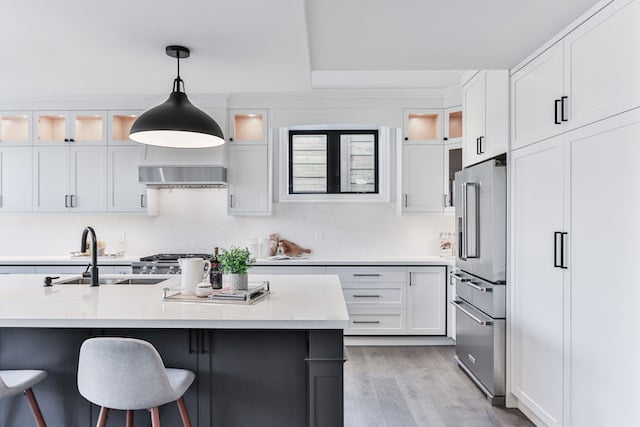 Cabinet doors can be an important design element in a farmhouse kitchen. Slab-style cabinet doors feature a single, flat panel that can be painted or stained to match the color of your cabinets and create a cohesive look in the kitchen.
Beadboard doors offer a traditional look with their wainscoting detail, while raised-panel doors are characterized by intricate designs that add dimension to the room.
If you prefer something more modern, glass-paneled doors bring in an airy lightness to the space. Whatever type of door you choose, make sure it complements your other design elements and fits within your overall aesthetic for the perfect farmhouse kitchen.
Upper Cabinets vs Lower Cabinets
Upper cabinets and lower cabinets can make a big difference in the look of your farmhouse kitchen. Upper cabinets provide storage space without taking away from the overall design, while lower cabinets are great for storing larger items like pots and pans. For the perfect farmhouse look, opt for white upper cabinets that contrast with the darker tones of the lower cabinets.
This will create a balanced look in the kitchen, making it feel both elegant and cozy. If you prefer something more subtle, you can use a single shade of wood or paint on both types of cabinetry to blend them into one another. Either way, selecting the right combination of upper and lower cabinetry is essential for creating a stylish farmhouse kitchen.
Drawers, Islands and Pantry Space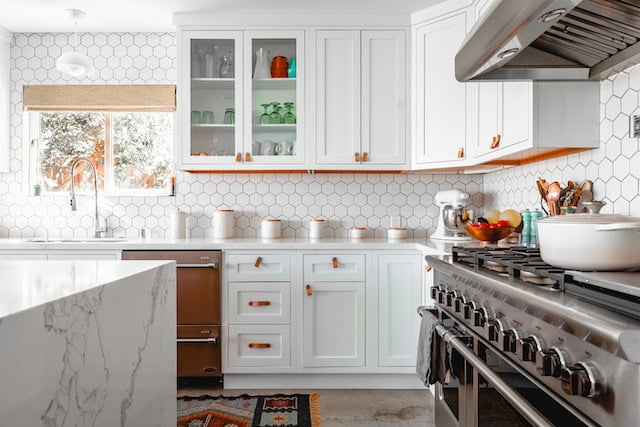 Drawers, islands and pantry space are great additions to any farmhouse kitchen. Drawers provide ample storage for cooking utensils and other small items while keeping them out of sight. Islands add a great focal point to the kitchen and can be used for food preparation or extra seating.
For an added touch of charm, choose a rustic-style island with painted wooden legs. Pantry space is an ideal place to store dry goods, canned food and snacks, freeing up valuable cabinet space in the kitchen. Choose cabinetry that complements the rest of your kitchen's design, such as white shaker-style cabinets with glass paned doors or distressed wood cabinets with metal hardware for a truly authentic farmhouse look.