Materials and Color Schemes
When it comes to creating a farmhouse-style kitchen, materials and color schemes are of the utmost importance. Natural wood cabinets, shelves and islands provide an inviting rustic charm while white subway tiles or reclaimed wood can add depth and texture. For a more modern look, stainless steel appliances, glass cabinet doors and black accents will give your space a sleek and contemporary feel.
As far as colors go, neutrals like whites and grays are traditional choices for farmhouse kitchens. However, don't be afraid to add pops of bright colors with accessories like rugs, curtains or artwork. Finally, natural elements like greenery or woven baskets can bring warmth to the room while also helping keep clutter at bay. With these key elements in mind, you're sure to have a beautiful farmhouse-style kitchen that is both timeless and stylish.
Natural Materials for a Rustic Look
When it comes to creating a farmhouse-style kitchen, natural materials are essential for achieving that rustic look. Reclaimed wood is a popular option and can be used for everything from cabinets to countertops. Alternatively, you could opt for exposed brick walls or natural stone tiles to add texture and character to your space.
For the floors, hardwood is timeless and classic while distressed wood planks will give your room a more shabby-chic feel. Finally, don't forget to incorporate plenty of natural elements into the design. Woven baskets, greenery, and even wooden bowls can help bring a rustic charm to your farmhouse kitchen. By choosing materials that reflect the beauty of nature, you'll be able to create an inviting space that exudes warmth and comfort.
Incorporating Bright Colors
Adding bright colors to a farmhouse-style kitchen can be a great way to inject some energy and personality into the space. Start by choosing playful accessories like patterned dish towels, colorful cookware or unique storage containers. You can also incorporate bold hues with paint. Try painting an accent wall in a vibrant hue or use colorful tiles around the backsplash for a more subtle approach.
If you're feeling really daring, consider using bright colored cabinetry or appliances to make a statement. Brightly colored furniture pieces like chairs and bar stools can also be used to break up the rustic monotony of wood accents while still staying true to the farmhouse aesthetic. With some strategic pops of color, you'll be able to create a warm and inviting farmhouse-style kitchen that stands out from the crowd.
Using White Walls to Enhance the Design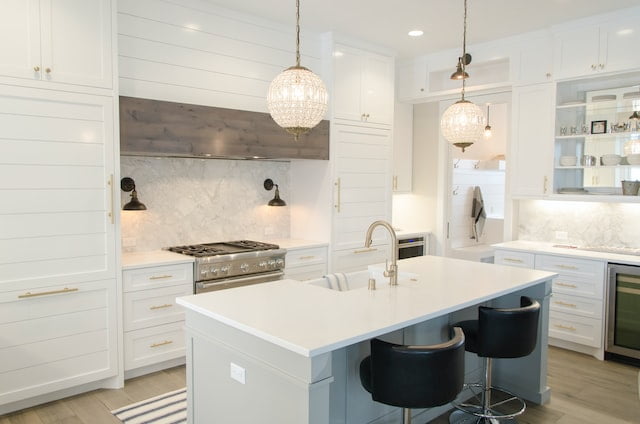 Using white walls in a farmhouse-style kitchen is an easy way to enhance the design. White walls can create a bright and airy atmosphere, perfect for a homey and welcoming space.
To add texture and dimension to the room, consider incorporating white subway tiles or shiplap wall paneling. For furniture pieces, look for white painted cabinets with vintage details like glass knobs or metal pulls. An all-white color palette will also allow you to experiment with different types of lighting fixtures, such as industrial pendants or traditional lanterns.
As an added bonus, using white walls in your farmhouse-style kitchen will make it easier to switch up the look whenever you feel like it—just by adding a few new accessories like colorful dishware or patterned textiles, you can instantly refresh the entire space.
Choosing the Perfect Dining Table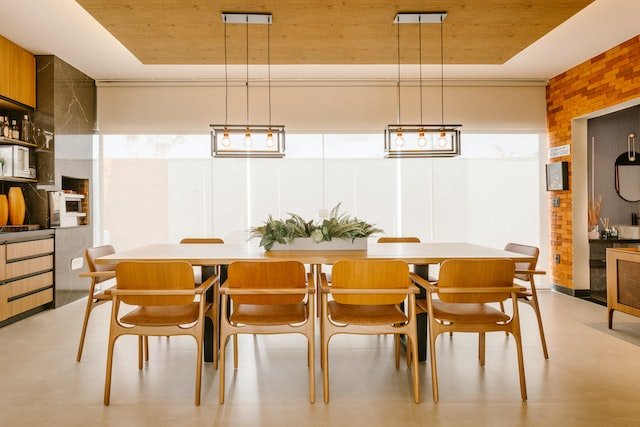 When selecting a dining table for a farmhouse-style kitchen, there are several factors to consider. Firstly, think about the shape and size of your space. Measure the area carefully and take into account any existing furniture or cabinetry that may be in the way. Secondly, decide on the style of table you would like—for example, a rustic wooden trestle or an industrial metal piece with clean lines.
Thirdly, think about seating arrangements—a round table is perfect for intimate family dinners, while an extendable rectangular table can accommodate larger gatherings. Lastly, choose the right materials and finishes that will last and fit in with your overall decorating scheme. With careful consideration of these elements, you can find the perfect dining table for your farmhouse-style kitchen.
Finishing Touches and Accessories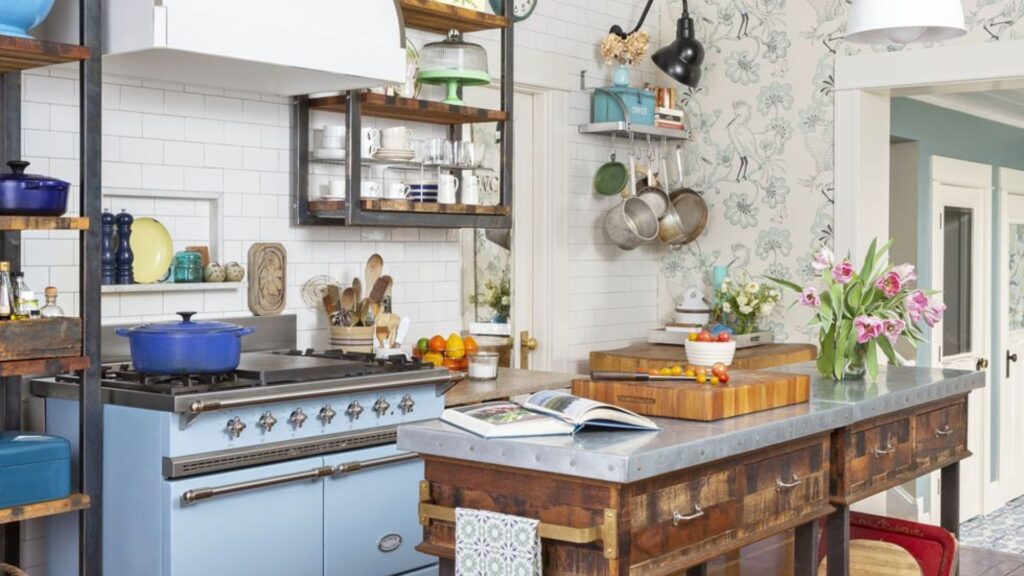 Adding the finishing touches and accessories to a farmhouse-style kitchen completes the look and adds personality. Consider hanging a vintage clock or wall sconce on the wall for some extra charm.
Window treatments such as cotton gingham curtains can also provide texture and color to the room. Country-style plates, mugs, and bowls can be displayed on open shelves to add a rustic touch. Adding a few pieces of country-inspired pottery is another great way to bring in character while adding functional storage space.
For a cozy atmosphere, consider including an area rug with a classic pattern such as plaid or stripes. Finally, be sure to hang some framed artwork featuring pastoral scenes or images of rustic country life for added visual interest. With these ideas, you can create a beautiful farmhouse kitchen that will be enjoyed for years to come!
The Importance of the Farmhouse Sink
The farmhouse sink is an essential element of any farmhouse-style kitchen. With its deep bowl and vintage design, this classic piece of kitchen equipment adds a timeless charm to any space. While the primary purpose of a sink is to clean dishes and wash hands, the farmhouse sink can also be used for numerous other tasks such as preparing food or filling up large pots.
Furthermore, its deep basin allows for easy access when washing larger items such as baking sheets or cutting boards. Beyond its practicality, the farmhouse sink also brings a unique aesthetic to the room with its signature style and rustic look. With its capacity to both function and add character, it's no wonder why this iconic piece of equipment remains popular in modern kitchens.
Conclusion
The farmhouse-style kitchen is an inviting and timeless space that can be easily achieved with the right elements. Natural materials such as wood, stone, and plants create a rustic atmosphere that is both cozy and charming.
With the right combination of furniture, accents, and decor pieces, you can transform your kitchen into a beautiful and inviting room that will bring out the true charm of your home. Whether it's a modern or traditional look you're aiming for, farmhouse style can be applied to any design aesthetic to give your kitchen the perfect touch of rustic charm.