What is Joanna Gaines Farmhouse Kitchen?
Joanna Gaines has become a household name thanks to her successful home renovation show on HGTV, Fixer Upper. Her popular farmhouse style is beloved by many, and one of the most iconic rooms she designs is the kitchen. Joanna's farmhouse kitchen typically features white walls, cabinets, and countertops that are offset with wood accents in the ceiling beams, floors, furniture pieces and island.
She often pairs these neutral tones with bright pops of color such as blues or reds for an added touch of personality. Natural materials like brick and stone add texture to the space while vintage fixtures bring a rustic feel. To top it off, Joanna usually adds a few personal touches like reclaimed wood signs or vintage cookware to make it truly unique. With its timeless charm and inviting atmosphere, it's no wonder why Joanna Gaines' farmhouse kitchens have become so popular!
Why Is It Popular?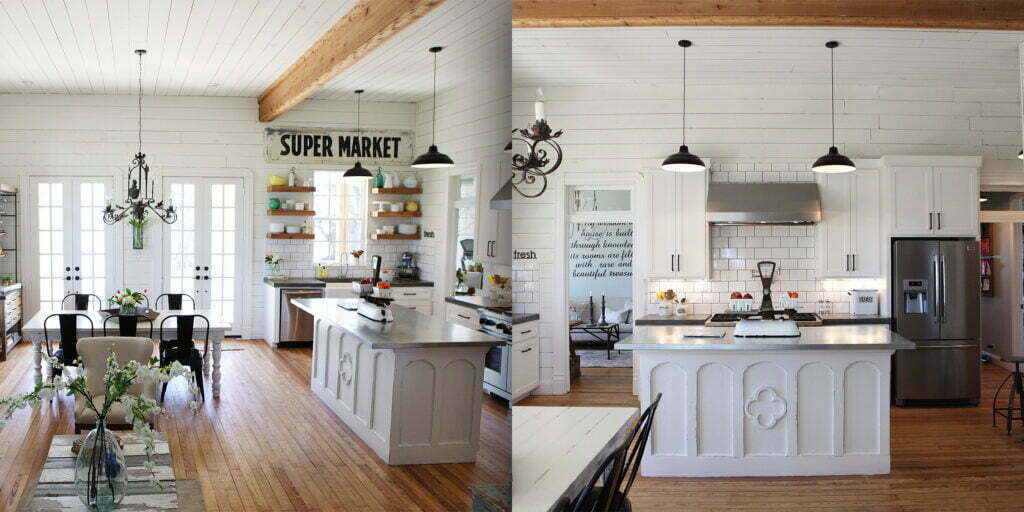 Joanna Gaines' farmhouse kitchen has become increasingly popular due to its timeless charm and inviting atmosphere. This classic style is perfect for anyone looking to create a cozy, homey space that will stand the test of time. Its neutral tones, wood accents, and natural materials give it an air of warmth and rustic elegance.
The pops of color provide personality without looking too over-the-top or out of place, which makes it ideal for almost any room in the house. Finally, Joanna's personal touches like vintage fixtures or reclaimed wood signs make the space truly unique and give it an added layer of character. Whether you're looking to renovate your own kitchen or just want some inspiration, Joanna Gaines' farmhouse kitchen is a great option!
Joanna Gaines' Color Palette
Joanna Gaines' color palette is as timeless as her farmhouse kitchen design. She uses a variety of classic hues to create a cozy, inviting space that stands the test of time. Her colors range from soft white and beige tones to vibrant shades like navy blue and sage green.
Joanna pairs these colors with natural materials like wood, stone, and distressed metals which bring out their unique characteristics. And when she wants to add some personality to the room, she adds pops of bright colors like yellow or pink. Ultimately, Joanna's use of colors creates a warm atmosphere that is perfect for any home and will never go out of style.
Neutral Colors as the Base
Neutral colors are the perfect base for any home decor. They provide a timeless, calming atmosphere that is both elegant and inviting. From light beige to deep charcoal gray, neutral colors create a space that is easy to customize and can transition between seasons with ease.
These colors also work well with all styles of furniture, from traditional wood pieces to contemporary steel accents. When used as a backdrop, neutral tones become the perfect canvas for pops of bright colors or bold patterns. Neutral colors are the ideal choice when creating a timeless design that will stand the test of time.
Pops of Color to Accentuate
Pops of color can be used to accentuate and add personality to a neutral-colored room. Whether it's bright, vibrant hues or subtle pastels, the perfect pop of color can bring a room to life. When used sparingly, these colors can draw the eye in specific areas and create an inviting atmosphere. Bright pinks, blues, reds and yellows are great for adding a cheerful feel while muted purples and greens give off more of a calming vibe.
To prevent an overwhelming feeling, pops of color should be used sparingly throughout the space. A few select pieces like throw pillows or artwork will do the trick without making the area too busy. By using neutral tones as your backdrop and pops of color as your accents, you'll have a timeless design that is sure to last for years to come!
Favorite Paint Colors
When it comes to paint colors, there are so many options that it can be hard to choose. Fortunately, there are some tried-and-true favorites that always seem to look good in any room! For a classic look, try a neutral shade like white or beige. These colors will never go out of style and will give your space a timeless feel.
For those looking for something more colorful, warm shades of yellow, orange and red are great for creating a cozy atmosphere. On the other hand, blue and green can be used to bring a cool and calming vibe into any room. No matter what color you choose, make sure to keep the rest of your decor simple and let the paint color shine!
Creating a Cozy Atmosphere with Light and Natural Elements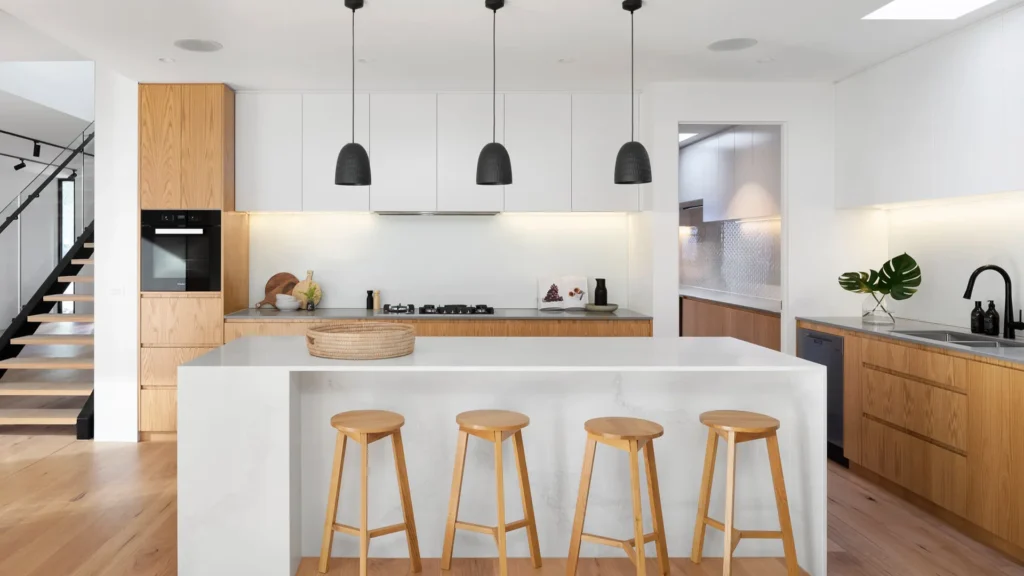 Creating a cozy atmosphere can be achieved in any room through the use of light and natural elements. To create a warm, inviting space, start with soft lighting such as floor lamps and table lamps. Place them strategically to help illuminate the entire room. Then, add natural elements like plants or flowers to give the area some life and make it feel more inviting.
Finally, select furniture pieces that have organic shapes like curves or rounded edges which help to create a more relaxed atmosphere. These simple steps will instantly make your home feel cozier and more inviting for gatherings with friends and family.
Natural Light and Light Fixtures
Natural lighting is a great way to bring a warm and inviting atmosphere into any room. When the windows are open, natural light can flood in and provide an inviting glow to the area. To further enhance this natural lighting, consider installing light fixtures such as ceiling fans or wall sconces that will give off a soft and dimmable light. These fixtures will help to create a cozy ambiance in your home, while also providing extra illumination for tasks like reading or entertaining guests.
Light fixtures come in many shapes and sizes so you can choose one that best fits your style and space. If you want something more rustic, opt for vintage-inspired pieces with unique details like exposed bulbs or distressed finishes. For a modern look, choose sleek designs with minimal accents like frosted glass shades or brushed nickel finishes. Whatever design you choose, make sure it fits well with the overall aesthetic of your room for a cohesive look.
Decorative Elements to Create Interest
Decorative elements are a great way to add interest and personality to any room. This can be achieved with the use of wall art, wallpaper, textiles, various accessories, and even furniture pieces. Wall art is a great way to inject color and pattern into a room; think about choosing framed prints or paintings that reflect your personal style or interests. Wallpaper is also a great way to create visual impact in a space; look for bold or subtle prints that will bring texture and depth to the walls.
Textiles like rugs, throws, curtains, pillows and bedding can also be used to add texture and warmth. Accessories such as vases, floral arrangements, bookshelves and sculptures can be used to fill up empty spaces on shelves or tables. Finally, consider investing in furniture pieces like chairs or benches that have unique shapes or designs that will stand out in the room. With these decorative elements you'll be sure to create a memorable space for yourself!
Utilizing Gray and White Paint Colors for Balance
Gray and white paint colors are a great way to achieve balance in any room. Gray is a neutral color that works well with many different accent colors, while white can provide an airy feel that makes the space feel larger. When utilizing these two shades of paint together, it's important to make sure you don't overpower one color over the other.
It's best to keep the lighter shade as the primary color and use the darker shade sparingly for accents. For instance, if you want to create a warm and inviting atmosphere in your living room, use white as the base color on your walls, then add gray furniture pieces or accessories throughout.
This will help to create a cohesive look that isn't too overwhelming or busy. Similarly, you can also use gray as the main hue on your walls and add pops of white in places like pillows, throws or rugs for some subtle contrast. With a little creativity and planning, gray and white paint can be used together for beautiful results!
Adding Rustic Accents to Create a Farmhouse Aesthetic
Adding rustic accents to a space is an easy way to create a farmhouse aesthetic. Rustic decor items such as wooden furniture, vintage dishes, and antique rugs are all great options for adding a rustic feel to your home. Additionally, you can incorporate natural elements like plants, wicker baskets, or jute rugs for more of an outdoorsy vibe.
To keep the look cohesive, try to stick with a neutral color palette such as whites and grays. Joanna Gaines often uses this color scheme in her homes which gives them that classic farmhouse feel. By combining these colors with rustic accents, you can create the perfect cozy spot for entertaining or relaxing with family and friends.
Kitchen Islands, Walls, and Trim: The Perfect Blend of Color and Texture
The kitchen is the heart of the home and creating a unique blend of color and texture is essential to any successful design. Kitchen islands, walls, and trim are all great ways to incorporate color and texture into your space. Islands can be painted in bold colors or stained in natural wood tones to add depth and dimension to the room.
Walls are a great opportunity to experiment with different shades and textures such as wallpaper, textured paint, or even tiles. Trim work is also an effective way to add contrast and interest to your kitchen. Painting trim in a light shade can really highlight the other colors in the room while using darker hues will make it stand out more. With careful consideration of color and texture, you can easily create a beautiful kitchen that reflects your personal style.
Kitchen Islands: Choosing the Right Stain or Paint Color
When it comes to kitchen islands, you have a variety of options when it comes to choosing the right stain or paint. For a more classic look, natural wood tones can be stained in dark colors such as ebony or walnut to add depth and contrast. To create a modern yet timeless feel, consider painting your island with a bright pop of color like aqua blue or emerald green.
You can also experiment with different shades of white or gray for a classic look with an updated twist. If you're feeling daring, why not go bold and choose something like yellow or orange? No matter what color you choose, make sure that it complements the other colors in the room and adds interest and dimension to your space. With careful consideration of color and texture, your kitchen island will be the perfect finishing touch!
Making an Impact with an Accent Wall Trim Work: Showcasing the Perfect Shade of White or Gray
When it comes to making an impact with an accent wall, trim work is essential in showcasing the perfect shade of white or gray. For a bold statement, choose a bright pop of color such as aqua blue or emerald green for your accent wall and trim pieces.
Alternatively, if you're looking for something more subtle, opt for shades of white or gray that pair well with the other colors in the room. Consider choosing different shades of one hue to create depth and dimension. You can also experiment with different textures and patterns on the walls to add interest and style to your space. With careful consideration of color and trim work, you can make an eye-catching statement while still keeping a timeless look.
Magnolia Home's Collection by Joanna Gaines
Magnolia Home's Collection by Joanna Gaines is a timeless collection of home decor and furniture that captures the unique style of Joanna Gaines. The pieces are inspired by her signature farmhouse, shiplap walls, and rustic accents while still featuring modern touches. From cozy living room sofas to chic dining tables, Magnolia Home's Collection has something for every style.
Many of the pieces feature neutral colors such as white, gray, and beige that work well with almost any color palette. With its variety of fabrics, textures, and shades this collection is perfect for creating a cozy yet stylish home. Whether you're looking to add a touch of sophistication or brighten up your living space with bold accents, Magnolia Home's Collection has something for everyone to love!
Traditional Pieces with Modern Touches
Traditional furniture pieces can provide a timeless look and feel to any home. Joanna Gaines' Magnolia Home collection combines traditional pieces with modern touches, creating the perfect atmosphere for your home. The collection includes classic items such as armchairs, sofas and dining sets in neutral colors like white, gray and beige.
These muted tones can easily be paired with bolder accent colors to create a contemporary yet cozy look. For example, adding bright colored throw pillows or rugs can really bring out the best of both worlds. To complete the look of your room, consider adding farmhouse-inspired elements such as shiplap walls or rustic accents. With its variety of fabrics, textures and shades, Magnolia Home's Collection has something for every style!
Finding Inspiration from Different Rooms in Your Home
When it comes to home decor, it can be difficult to decide upon the perfect style for each room. To help make the process easier, one great strategy is to find inspiration from different rooms in your home. Start by looking around your living room – what colors, patterns and textures do you like best? Once you have a better understanding of what appeals to you, try searching online for similar looks that could work in other rooms.
If you like the idea of a cottage-style kitchen but are not sure where to start, try browsing through some photos of Joanna Gaines' farmhouse kitchen for ideas on how to incorporate similar elements into your own design. With a little bit of creativity and research, you can create a cohesive look throughout your entire home that reflects your own personal style!
Conclusion
When it comes to home decor, finding the perfect style for each room can be daunting. The best way to simplify the process is to look around your home for inspiration. Find colors, patterns and textures that you love and use them as a basis for other rooms in your home. If you're looking for a cottage-style kitchen, there is no better source than Joanna Gaines' farmhouse kitchen.
By taking cues from what she has done, and adding your own twist, you can create a unique space that reflects your personal style. With a little creativity and research, you can make sure every room in your house flows together cohesively – creating the perfect home atmosphere!