A farmhouse kitchen style is a timeless and classic look that continues to be popular. Characterized by its rustic charm, a farmhouse kitchen will bring warmth and comfort to your home. It features natural colors, exposed wooden beams, shiplap walls, distressed furniture, and vintage-inspired decor.
The use of natural elements such as wood and stone help create a cozy atmosphere in your space. Farmhouse kitchen cabinets are usually painted white or cream with distressed finishes to add character.
The counters can be either granite or butcher block for an authentic feel. Dark metal fixtures like light fixtures, hardware, and appliances are also great additions to the space. Lastly, adding plants to your farmhouse kitchen design can make it even more inviting and help bring the outdoors in!
Design Inspiration
If you're looking for design inspiration for your farmhouse kitchen, look no further. Farmhouse kitchens are all about creating a cozy and inviting atmosphere with traditional elements such as natural wood and stone, dark metal fixtures, and pops of color from plants or other decor. You can combine modern and rustic elements to create a unique look that will stand the test of time.
For instance, use a combination of white cabinetry and exposed wood beams on the ceiling to add character to your space. Alternatively, mix painted cabinets with industrial-style lighting fixtures for an edgier vibe. No matter what look you choose, you can be sure that it won't go out of style anytime soon.
White Cabinets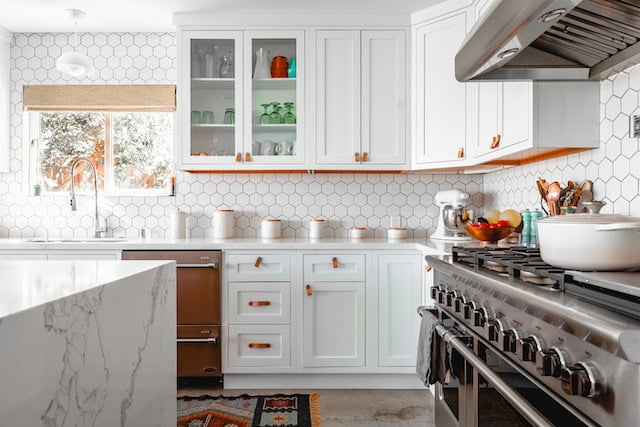 White cabinets are an essential element of any farmhouse kitchen. They give the room a bright, airy feel and provide a perfect backdrop for pops of color from plants or other decor.
Plus, white cabinets are incredibly versatile, allowing you to switch up your look whenever you want. Try painting them with a distressed finish for an aged look, or keep them pristine and minimal if that fits your style better.
You can also use white cabinets as part of a two-tone design scheme – pair them with dark metal fixtures or natural wood beams on the ceiling to create an eye-catching contrast. With so many possibilities, white cabinets are sure to be the star of your farmhouse kitchen design.
Natural Light Fixtures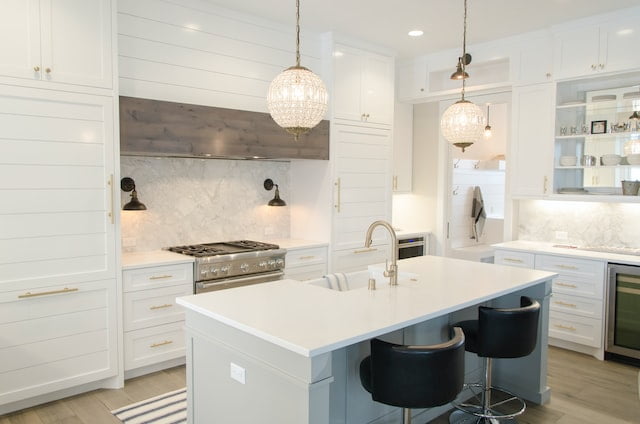 Natural light fixtures are a great way to bring a warm and inviting atmosphere into your farmhouse kitchen. Whether you choose rustic pendant lights, exposed bulbs, or a classic chandelier, these fixtures can help brighten up the space while adding a touch of charm.
Natural light is essential for any cooking or baking tasks and can also help to create an inviting atmosphere for entertaining guests. When selecting natural light fixtures for your kitchen, consider the size of the space and the type of lighting you want to achieve.
For example, if your kitchen is small and has limited windows, opt for smaller sized pendants or wall sconces that will provide plenty of illumination without taking up too much space.
Farmhouse Sink Options
When designing a farmhouse kitchen, one of the best features to consider is a farmhouse sink. These sinks not only look great but also offer plenty of practical benefits. Farmhouse sinks often feature an apron front design that projects out beyond the countertop and sits above the cabinet base.
This allows for easier access when washing dishes or preparing food, as well as giving your kitchen a unique and classic style. There are many different styles of farmhouse sinks available, including stainless steel, cast iron, ceramic, and fireclay options. No matter which type you choose, make sure it is properly installed with adequate support to prevent shifting or cracking over time.
Modern Farmhouse Kitchens for Inspiration
Modern farmhouse kitchens offer a unique and stylish way to bring the beauty of the outdoors into your home. Whether you are looking for a rustic feel or something more contemporary, there are plenty of design elements that can help make your kitchen stand out. Start by incorporating natural materials such as wood, stone, and brick into the space.
Then, add some modern touches like stainless steel appliances and sleek cabinets. Finally, choose décor pieces with a farmhouse flair such as galvanized metal accents or vintage-inspired lighting fixtures. You can even go all out with distressed furniture pieces and a classic farmhouse sink! With these elements combined, you'll be sure to have an inviting and beautiful modern farmhouse kitchen.
Floor Plan Considerations
When designing your modern farmhouse kitchen, one of the most important considerations is the floor plan. You'll need to think about how much space you have available, as well as which appliances and furniture pieces will best fit within the layout. Start by considering the size and shape of your room and then determine where to place the major elements like counters, sinks, ovens, and refrigerators.
If you're limited on space, opt for an open floor plan with a breakfast bar or island in the center. This will provide additional counter space while also creating a focal point in the room. Additionally, be mindful of any traffic patterns so that guests can move comfortably throughout the space without feeling cramped or crowded.
With careful planning and thoughtful design choices, you can create a beautiful modern farmhouse kitchen that is both functional and stylish!
Tips for Making the Most of Your Space in a Smaller Kitchen Layout
When designing a modern farmhouse kitchen in a small space, it's important to make the most of the area available. Here are some tips for optimizing your space:
1. Use open shelving to create an airy feel and allow easier access to items.
2. Incorporate minimal furniture that doesn't take up too much room. Consider a kitchen cart or island which can provide extra counter space while taking up less floor space than traditional cabinetry.
3. Utilize wall-mounting solutions like pot racks and hanging shelves to free up cabinet and counter space.
4. Choose appliances that fit snugly into the layout, such as a smaller refrigerator or dishwasher if possible, and consider integrated options that can be tucked away when not in use.
5. If you have enough room, incorporate an eat-in table or breakfast bar to maximize seating while utilizing minimal floor space.
By following these simple tips, you can create an efficient and beautiful modern farmhouse kitchen in even the smallest of spaces!