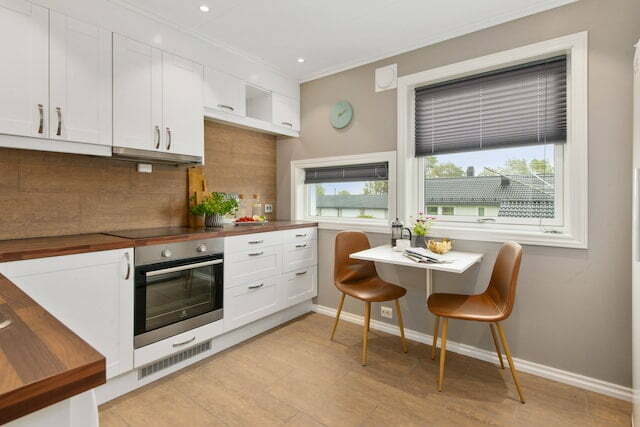 Industrial farmhouse kitchen is a style of interior design that combines the best elements of rustic, industrial and modern farmhouse styles. This type of kitchen has become popular in recent years due to its combination of vintage charm and contemporary style.
The industrial farmhouse look typically features stainless steel appliances, exposed brick walls, distressed wood cabinets and countertops, open shelving and an eclectic mix of furniture pieces.
Industrial farmhouse kitchens also tend to have a neutral color palette with pops of black or white throughout, as well as plenty of natural light. The overall effect is one of comfort and warmth – perfect for entertaining friends and family or just enjoying a quiet evening at home.
Benefits of Industrial Farmhouse Kitchen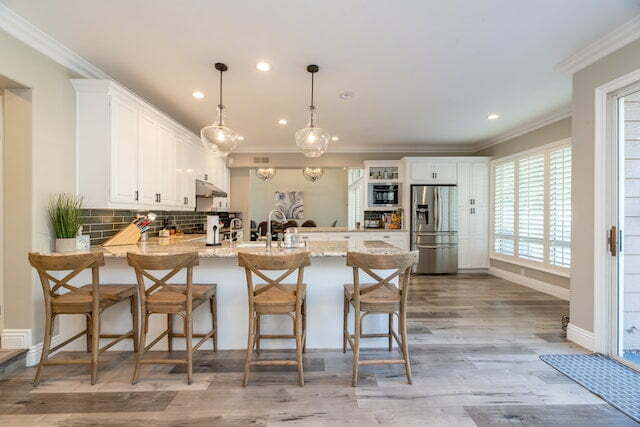 The industrial farmhouse kitchen offers a number of benefits to homeowners. From a decor perspective, the combination of rustic and modern elements creates a unique look that is sure to draw attention.
This style also allows homeowners to incorporate their own personal touches into the design, such as vintage accessories or reclaimed materials. The neutral color palette provides a sense of calmness and can easily be changed with seasonal décor items.
Additionally, the use of stainless steel appliances ensures that this style will remain timeless for years to come. Not only does the industrial farmhouse kitchen provide aesthetic appeal, but it also makes for an efficient and practical workspace.
Open shelving helps keep everything organized while providing easy access to cooking supplies and utensils. Exposed brick walls add texture and character without overwhelming the room, allowing homeowners to create a truly personalized space.
Key Elements of Industrial Farmhouse Kitchen Design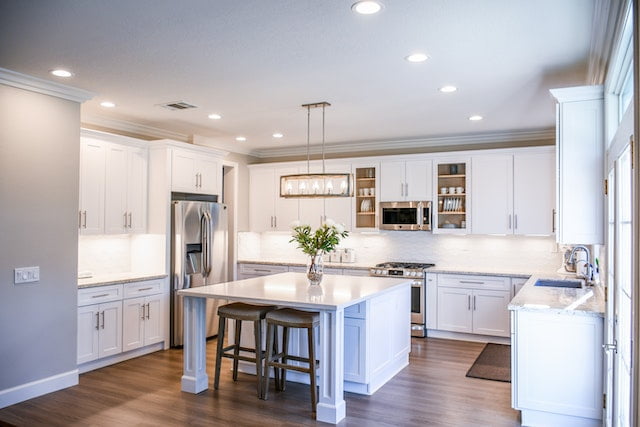 Industrial farmhouse kitchen design is a stylish and modern take on traditional country décor. This style combines elements of rustic and industrial designs to create a unique, timeless look. Key elements include neutral color palettes, stainless steel appliances, exposed brick walls, open shelving, and vintage accents.
These elements help to create a practical yet cozy environment for cooking and entertaining. Neutral colors such as white, grey, and beige create a calming atmosphere that can easily be accented with seasonal décor pieces such as throw pillows or tablecloths. Stainless steel appliances provide both functionality and durability while open shelving allows easy access to supplies and utensils.
Exposed brick walls add texture and character without overwhelming the room while vintage accessories provide an extra dose of personality. With these key elements in place, homeowners can create an inviting space for family meals or casual gatherings with friends.
Stainless Steel Appliances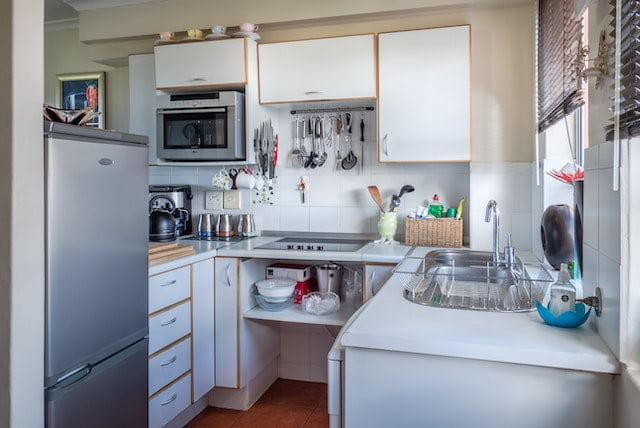 Stainless steel appliances are a staple of industrial farmhouse kitchen design. These durable and stylish pieces add an elegant touch to any kitchen, while providing functionality and lasting value.
Stainless steel appliances come in a variety of shapes and sizes, offering homeowners the opportunity to customize their kitchens with pieces that fit their needs.
From refrigerators, ovens, and microwaves to dishwashers, stoves, and hoods; stainless steel appliances can provide the perfect combination of convenience and style. They are also easy to clean and maintain, making them ideal for busy households that don't have time for intensive cleaning. With the right care and maintenance routine, stainless steel appliances can last for years to come – providing years of reliable service.
Kitchen Island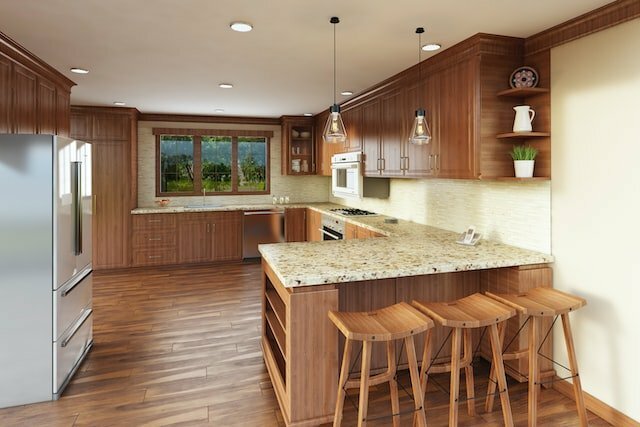 The kitchen island is a versatile addition to any kitchen, offering extra counter space and storage. With a variety of shapes and sizes, there is sure to be an option that fits the needs of your space.
Kitchen islands come with features such as breakfast bars, wine racks, drawers, shelving, and more; making them perfect for additional seating or preparing meals. For those who entertain regularly, a kitchen island can provide extra serving space for guests or a place to enjoy meals together. Not only are they functional but they also add a stylish touch to the room while creating visual interest.
From rustic wood islands with butcher block tops to sleek marble islands with stainless steel accents; there is something for every style and budget. With its endless possibilities, the kitchen island can transform any kitchen into an efficient and beautiful space.
Farmhouse Sink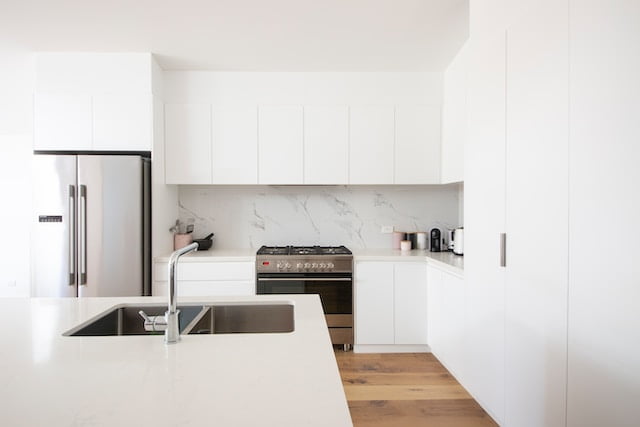 A farmhouse sink is an essential part of any industrial farmhouse kitchen. Not only do they add a unique, rustic charm to the room, but they also provide ample space for washing dishes and food prep.
Unlike traditional sinks that sit on top of the countertop, farmhouse sinks are mounted beneath the counter or cabinetry. This allows for more space around the sink and makes it easier to clean up spills or access items in the cabinet below. The classic white porcelain design is perfect for achieving a timeless look while stainless steel models provide a modern edge.
With its deep bowl and spacious area, a farmhouse sink is ideal for homes with large families or those who love to entertain. From contemporary designs with sleek lines to traditional styles with intricate detailing; there is sure to be an option that fits your style and budget.
Clean Lines
Clean lines are a popular design trend for industrial farmhouse kitchens. This look is achieved by incorporating simple and minimalistic elements that create a modern, yet cozy atmosphere.
The key to achieving this style is to focus on clean and uncluttered countertops with few decorative items. Stainless steel appliances and fixtures provide a sleek and contemporary feel while open shelves keep the space from feeling too cluttered. For lighting, industrial-style pendant lights hung above the kitchen island add a modern touch while keeping the area well lit.
A neutral color palette of whites, blacks and grays helps to keep the room looking sharp. Finally, adding natural materials such as wood or stone can help soften the overall look while providing an element of warmth. By incorporating these clean lines into your industrial farmhouse kitchen, you can easily create a timeless yet inviting space.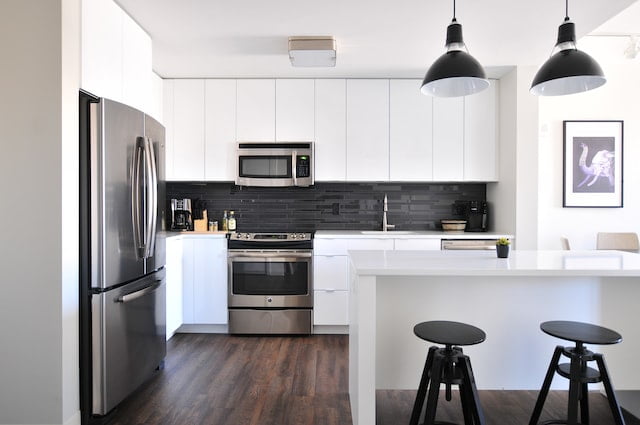 Industrial Touches
Industrial touches can add a unique and sophisticated flair to any farmhouse kitchen. Exposed brick walls, galvanized steel accents and Edison-style light fixtures are all popular ways to bring an industrial vibe into the room.
For an eye-catching focal point, consider hanging a vintage-style metal sign or painting a wall with chalkboard paint for a fun way to leave notes and draw pictures.
Industrial shelving units provide plenty of storage space while keeping the look minimal and uncluttered. Repurposed items such as barn doors, ladders or wooden crates can also be used to create interesting displays for books, plants and other decorative items.
Finally, adding pieces that are both functional and stylish such as an industrial farmhouse table, bar cart or rustic kitchen island can help tie the entire look together. With these industrial touches, your farmhouse kitchen is sure to become the envy of all your guests!