How Do You Redo a Farmhouse Kitchen?: A farmhouse style kitchen is a cozy and inviting look that blends traditional elements with contemporary touches. Characterized by painted cabinetry, distressed woods, and rustic accents, this classic style of kitchen creates a comfortable and homey atmosphere. Often incorporating natural wood furniture and bright white accessories, the farmhouse kitchen is perfect for anyone who loves the charm of country life.
Countertops may be made from butcher block or granite while hardware may feature classic brass elements. Large windows provide plenty of natural light to create an open and airy feeling in the room. To complete the look add wooden cabinets, vintage-style appliances, a farmhouse sink, and antique decor pieces. With its timeless beauty, a farmhouse style kitchen can easily be updated with modern appliances or furnishings to suit your individual tastes.
Why Redo a Farmhouse Kitchen?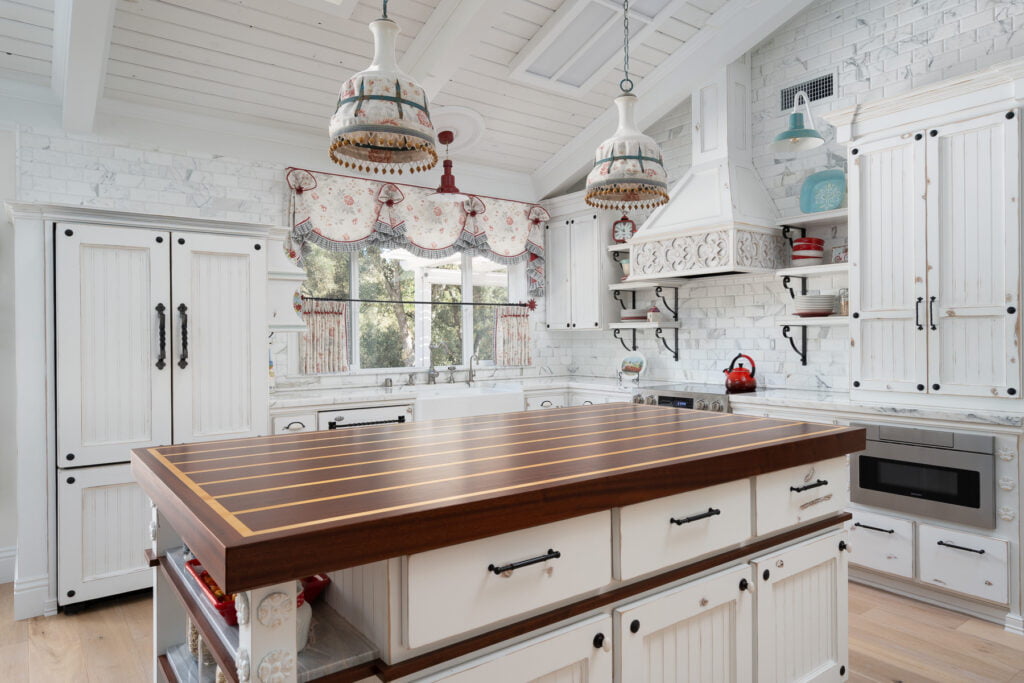 Redoing a farmhouse kitchen is a great way to add modern touches to your home and give it an updated look. Whether you want to upgrade outdated appliances, replace the cabinets and countertops, or just refresh the overall feel of the room, redoing a farmhouse kitchen can make all the difference.
You can keep some of the traditional elements of the style while adding modern accents such as stainless steel appliances, quartz countertops and sleek cabinetry. Adding in new lighting fixtures and accessories can also help to create a more inviting atmosphere for family meals and gatherings. Redoing a farmhouse kitchen allows you to personalize it with your own unique style and make it truly special.
Budgeting for Your Farmhouse Kitchen Remodel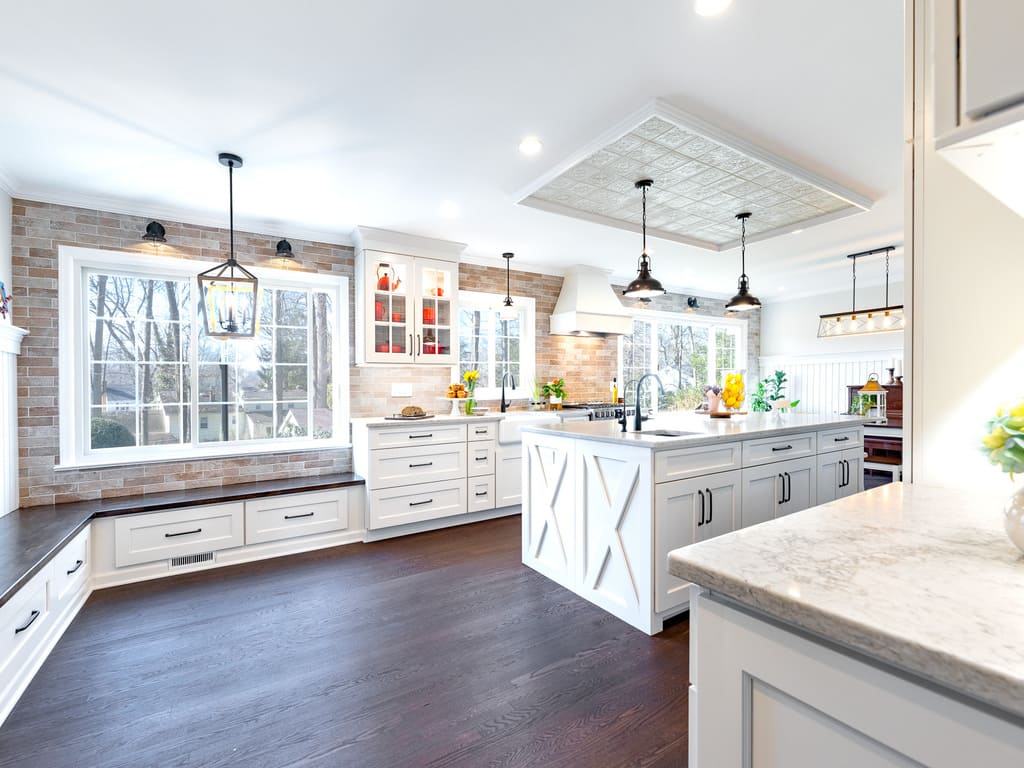 Before starting a farmhouse kitchen remodel, it is important to budget appropriately. This will help ensure that you stay within your means and don't overspend. Start by making a list of the items that need to be replaced or upgraded in your kitchen. Consider things like cabinetry, countertops, appliances, lighting fixtures, and accessories.
Research the cost of each item and add them up to get an idea of how much the entire project will cost. You can also look into financing options if necessary. Once you have an approximate budget for the project, you can start shopping around for materials and labor costs.
Don't forget to factor in any additional expenses such as delivery fees or installation costs for appliances or countertops. Budgeting beforehand will help ensure that your farmhouse kitchen remodel goes smoothly from start to finish!
Establish a Budget
Establishing a budget is a critical step when planning any home improvement project. This includes remodeling your kitchen, whether it's in a farmhouse style or not. A budget will help you stay focused on what needs to be done and keep your costs in check. When creating a budget, make sure to factor in all materials, labor costs, delivery fees, installation fees, and more.
Start by making a list of the items that need to be replaced or upgraded in your kitchen and research their cost. Add up the total expenses to get an approximate cost for the entire project. If necessary, look into financing options as well. It's also important to leave some room in your budget for unexpected expenses that may come up along the way. By establishing a budget upfront, you can focus on remodeling your kitchen without worrying about overspending.
Identify Priorities
Identifying your priorities is an important part of planning a farmhouse kitchen renovation. Start by making a list of all the features you want to include in your new kitchen, such as cabinets, countertops, appliances, and more. Once you've identified these items, rank them in order of importance. This will help you focus on the most important elements first and determine which elements can be sacrificed if necessary.
Additionally, identifying your priorities will help you stay within your budget by focusing on the features that are most important to you. For example, if a high-end stove is not at the top of your list, it may be wise to invest in a cheaper option while putting more money towards something else that is more important to you.
By taking the time to identify your priorities before beginning any renovations or purchases, you can ensure that the final result is exactly what you wanted.
Get Quotes from Professionals
Before starting any farmhouse kitchen renovation, it is important to get quotes from professionals. Start by researching local contractors who specialize in home renovations and compare their prices and services. Ask for detailed estimates that include all materials, labor costs, and installation fees.
Additionally, ask the contractor to provide references from past clients so you can get a better idea of their work quality. Once you have found a few contractors that meet your needs, don't be afraid to negotiate for a better price or additional services such as free delivery or installation of certain items. Getting quotes from professionals will help ensure that you are getting the best possible deal on your farmhouse kitchen renovation.
DIY Projects to Keep Costs Low
If you are looking to keep costs low during your farmhouse kitchen renovation, there are plenty of DIY projects that you can take on. Painting the walls and cabinets is a relatively easy project that can give your kitchen a brand new look without having to replace them. You can also replace cabinet knobs and handles with more modern, stylish pieces.
Other inexpensive DIY projects include refacing cabinets and installing stone backsplashes or countertops. Furthermore, if you're feeling up to it, you could even tackle some woodwork such as adding shelves or building a new island. With these DIY projects you can save money while still achieving the farmhouse kitchen of your dreams.
Planning the Layout of Your New Farmhouse Kitchen
When planning the layout for your new farmhouse kitchen, it is important to consider the size and shape of the room. You should also think about how you want to arrange your appliances and cabinetry. If you plan on having an island in your design, make sure that there is enough space between the island and other cabinets or countertops.
Another factor to consider when designing a farmhouse kitchen is storage solutions. Be sure to include plenty of drawer and shelf space as well as ample countertop space for preparing meals. Additionally, consider adding seating such as a breakfast nook or bar area so that you can entertain family and friends with ease. With careful thought and planning, you can create a beautiful and functional farmhouse kitchen that will be enjoyed for years to come.
Maximize Natural Light
Maximizing natural light in your home can be a great way to reduce energy costs and create a more inviting atmosphere. Start by replacing heavy window treatments with sheer curtains that will allow for ample natural light flow. If your home has large windows, consider investing in solar shades or blinds that can help control the amount of sunlight coming into the room.
Additionally, you can use mirrors to reflect and amplify the existing light. Strategically placed mirrors on walls or near windows can help spread natural light throughout the entire room. Paint color also plays an important role in how much light is reflected off of surfaces. Choose lighter colors such as whites and pastels to help open up the space and make it appear brighter. With these simple tips, you'll be able to maximize natural light in your home and create a warm, inviting atmosphere.
Consider How You Use the Space (Cooking, Entertaining, etc.)
When it comes to redoing a farmhouse kitchen, it's important to consider how you will use the space. Will you be using the kitchen for cooking, entertaining, or both? Depending on your needs, there are several things you can do to optimize the layout and design of your kitchen.
For example, if you plan on doing a lot of cooking and entertaining in the space, consider creating an open floor plan that allows for easy movement between the kitchen and dining area. Additionally, adding a center island with seating can add extra work surface as well as create additional seating for guests. If storage is an issue, think about incorporating built-in cabinets and shelving units that can help maximize storage space while still keeping a clean aesthetic.
Lastly, don't forget to consider how you want to use the lighting in the room; task lighting near countertops and wall sconces around mirrors will create a warm ambiance while also providing adequate lighting for food preparation and other activities. With these tips in mind, you'll be able to create a beautiful farmhouse kitchen that meets all of your needs!
Choose Appropriate Appliances and Fixtures
When it comes to redoing a farmhouse kitchen, choosing the right appliances and fixtures is essential. Look for simple yet functional appliances that are made of stainless steel or other materials with a classic look. Consider incorporating a range hood to keep steam and smoke out of the kitchen.
Additionally, adding an apron-front sink can give your space an authentic farmhouse feel. Finally, consider adding vintage-style light fixtures such as wall sconces or pendants over the countertop or island to create a warm, inviting atmosphere. By selecting the right appliances and fixtures, you can create an attractive and functional farmhouse kitchen that will last for years to come.
Utilize Storage Efficiently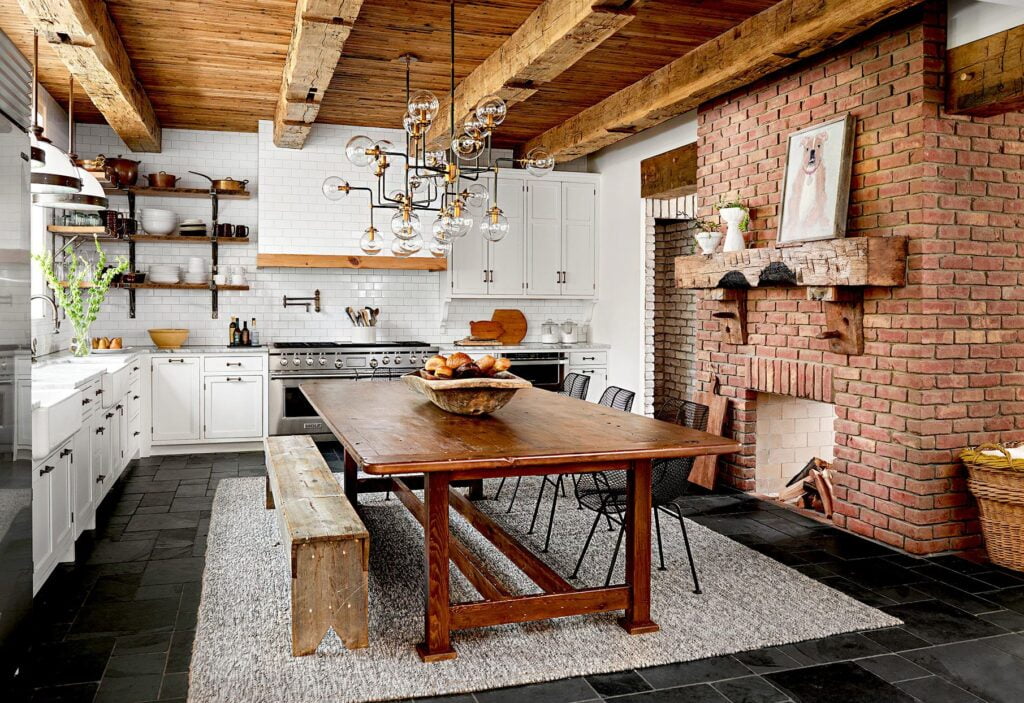 When it comes to redoing a farmhouse kitchen, storage is key. To maximize the space available in your kitchen, look for cabinets and drawers that are designed to make efficient use of the space. Wall-mounted shelves and racks keep items off the countertops while still being easy to access.
Utilize all corners of your kitchen by installing corner cabinets with pull-out shelves or lazy susans. Additionally, use baskets and bins on shelves or in drawers to store smaller items such as utensils, spices, or canned goods. By utilizing storage efficiently you can create an organized and clutter-free farmhouse kitchen that looks great and functions well.
Keep Sightlines Open Throughout the Room
When redoing a farmhouse kitchen, it is important to keep sightlines open throughout the room. This can be achieved by using wide windows, large doorways and removing any obstructions such as bulky furniture. Consider installing glass-front cabinets to allow light to pass through the space. Mirrors hung on walls or installed in cabinet doors can also help open up the space.
Additionally, try utilizing open shelves for storage instead of closed cabinets. This creates an airy atmosphere and allows you to show off decorative items or cookware without hindering your view of the rest of the room. By keeping sightlines open throughout your farmhouse kitchen, you can create an inviting atmosphere that looks and feels larger than it actually is.
Selecting Materials for Your New Farmhouse Kitchen
When redoing a farmhouse kitchen, selecting the right materials for each component is essential for creating the perfect look. Flooring can make or break a room, and when it comes to farmhouse kitchens, hardwood floors are often the best choice. For cabinets and hardware, go with something classic like white painted wood or rustic-style metal.
Countertops should be timeless too—granite or quartz are both good options that will stand the test of time. Backsplash ideas can range from traditional subway tile to more modern glass mosaic tiles. Lighting solutions include vintage pendants and sconces, as well as contemporary track lighting systems.
And don't forget flea market finds! Vintage pieces like old signs, jars, and books can bring charm to your space while adding character and personality. With careful selection of materials, you can create a beautiful yet timeless farmhouse kitchen that you'll love for years to come.
Professional Help During Renovations Hiring Contractors
Renovations can be a daunting task, especially when it comes to farmhouse kitchens. While tackling the project on your own may seem like an attractive option, there are many benefits to having professional help. Hiring contractors for certain jobs such as plumbing or electrical work is essential for ensuring that everything is done safely and correctly.
You may also want to hire a carpenter or cabinet maker if you opt for custom cabinetry. Working with an interior designer is another great way to ensure that the end result looks exactly how you envisioned it.
An interior designer can provide invaluable advice on materials, color schemes and furniture selection, helping you create a truly unique space that reflects your style and personality. Having professional help during renovations may cost more upfront but can save you time and money in the long run while helping make sure your dream kitchen becomes a reality.
Final Touches to Complete the Look Finishing Touches
Once the big renovations are finished, it's time to add the finishing touches that will make your farmhouse kitchen truly unique. Plants can be used to bring life and color into the space. A few carefully placed pieces of artwork on the walls can also help create a more inviting atmosphere. Accessories like baskets, jars, and other small decor items can add character and style.
If you want an extra special touch, look for vintage pieces that fit with your aesthetic. For example, a vintage cupboard or dresser can make for great storage space while adding a bit of charm to your kitchen. Whether you opt for modern or rustic pieces, adding a few personal touches to your farmhouse kitchen will give it a homey feel that you'll love coming home to every day.
Conclusion
Redoing a farmhouse kitchen is a great way to add character and charm to your home. The finishing touches you choose will help create the atmosphere you want in your space. Plants, artwork, accessories, and vintage pieces are all excellent additions that can make your kitchen look complete.
With just a few simple pieces you can give your kitchen the authentic farmhouse feel that it deserves. So take some time to find the perfect items that will bring your vision to life and enjoy coming home to a beautiful kitchen every day!