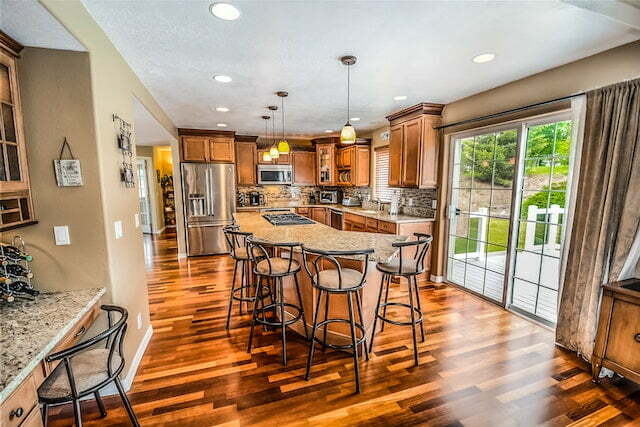 A farmhouse kitchen is a type of kitchen that has its roots in the country homes of rural areas. This style of kitchen usually features rustic elements such as weathered wood, exposed beams, and vintage-style appliances.
Farmhouse kitchens often have an inviting, cozy feel to them, thanks to their warm colors and natural materials. These kitchens are designed to be both functional and aesthetically pleasing, with plenty of storage space for all your cooking needs.
Whether you prefer a modern or traditional style, there's something for everyone when it comes to designing a farmhouse kitchen. From bright whites and grays to deep greens and blues, the possibilities are endless when creating your own unique look.
Why the Farmhouse Design Is Trending
Farmhouse design is trending for a variety of reasons. For starters, it offers an inviting and cozy atmosphere that is perfect for entertaining family and friends. Additionally, this style of kitchen features rustic elements that give it a timeless look and feel.
Plus, farmhouse kitchens often use natural materials such as wood and stone which adds to the charm. Furthermore, they can be easily adapted to fit any budget or space constraints due to their versatile design options.
Lastly, farmhouse kitchens are incredibly popular right now because they offer an affordable way to upgrade your home without breaking the bank. With all these things in mind, it's not hard to see why farmhouse kitchens have become so popular in recent years!
Traditional Elements of Farmhouse Kitchens
Traditional elements are a key part of the farmhouse kitchen design. These include rustic furniture, distressed finishes on cabinets and appliances, and classic details like ceramic tiles and wrought iron hardware.
Farmhouse kitchens often feature natural materials such as wood, stone, and brick for both walls and floors. Exposed beams add character to the space while open shelving creates a homey feel.
Traditional fixtures like pot racks, range hoods, chandeliers, and lanterns bring a classic touch to the room. Finishing touches like vintage-style fabric curtains or a well-loved quilt hung over the sink complete the look. With these traditional elements in place, your farmhouse kitchen will be both timelessly chic and invitingly comfortable.
Wood Finishes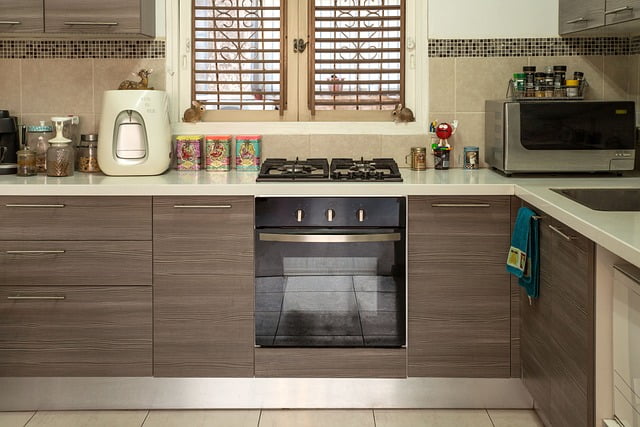 Wood finishes are a popular choice for farmhouse kitchens. Whether you prefer a classic stained finish or a more modern painted look, wood can bring warmth and texture to the space.
Wood cabinets and shelves are perfect for displaying dishes, cookbooks, and knick-knacks. For furniture, choose pieces with natural wood tones for an authentic farmhouse feel. Reclaimed wood is also an option that adds history and character to the room.
To keep your wood looking its best, make sure to clean it regularly with the appropriate products. You can also add a protective finish to help preserve the wood's natural beauty. With proper care, your wood finishes will last for years to come and bring timeless charm to your farmhouse kitchen.
White Tiles and Cabinets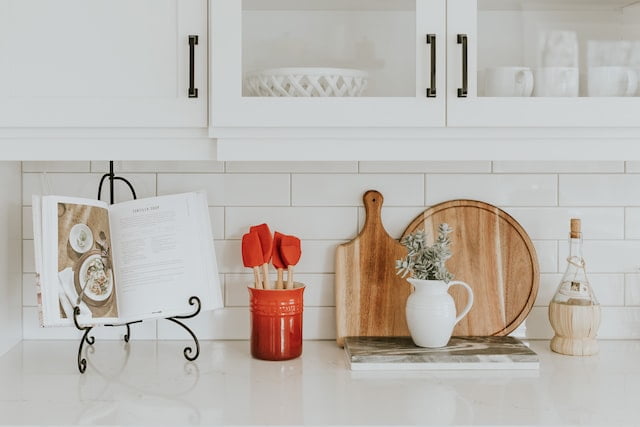 White tiles and cabinets are a great choice for any farmhouse kitchen. White tile floors and backsplashes can create a bright, airy atmosphere while also providing a classic, timeless look.
White cabinets are also ideal for creating a clean and organized look in the kitchen. Whether you choose shaker-style or flat-panel cabinets, they can be easily customized with hardware to suit your taste.
When paired with stainless steel appliances, the combination creates an elegant modern farmhouse style that is sure to impress your guests. To keep white cabinets looking their best, make sure to regularly dust and wipe them down with warm soapy water. With proper care, your white tiles and cabinets will remain beautiful for many years.
Country Style Kitchen Islands
Country style kitchen islands are a great way to bring a rustic, cozy vibe to your home. These islands typically feature natural wood frames and countertops that give off a warm, inviting atmosphere.
To complete the look, you can add wrought iron hardware and decorative accents like lanterns or old-fashioned signs. For added convenience, many country-style kitchen islands come with extra storage space such as drawers or shelves. With the right lighting fixtures and some comfortable seating, these islands can become the perfect gathering spot for family and friends.
Whether you're hosting a dinner party or simply enjoying an evening at home, your country style kitchen island will always provide an inviting atmosphere.
Joanna Gaines' Signature Look
Joanna Gaines' signature look is a modern take on rustic farmhouse style. Her natural, simple decor features warm, earthy tones and an eclectic mix of vintage and modern pieces. The walls are often painted in muted shades of gray and white, while the floors are left raw with natural woods for a cozy yet contemporary feel.
Joanna's furniture is often made up of traditional pieces like armoires and dressers that have been painted in white or light pastel colors. In addition to her classic style pieces, Joanna also incorporates unique items like distressed antique rugs, aged iron hardware, and even repurposed items such as old doors. With her minimalist aesthetic, Joanna Gaines has created a timeless look that will never go out of style.
Bold Colors and Patterns
Bold colors and patterns are expected to be a popular trend in 2023 farmhouse kitchens. From bright blues, greens, and yellows to bold reds and oranges, adding a splash of color can bring excitement to the kitchen space. Patterns such as chevron, gingham, or geometric shapes will also be popular this year.
These patterns can be used on furniture pieces such as chairs, tables, or cabinets to add texture and interest to the kitchen. While these bold colors and patterns may seem overwhelming at first, they can easily be blended with more neutral elements like white walls or butcher block countertops for an elegant yet modern look.
With the right balance of colors and patterns, your farmhouse kitchen can become a stylish space that is both inviting and functional.