What is a Farmhouse Kitchen?
A farmhouse kitchen is a popular style of kitchen that incorporates elements of rustic, traditional, and country design. This type of kitchen creates a warm, inviting atmosphere with its natural materials and timeless appeal. The most common features of a farmhouse kitchen include wood cabinets, exposed beams, white walls and appliances, open shelves, and vintage-inspired decor. It's also important to consider the backsplash when designing a farmhouse kitchen; it should reflect the style while complementing the other elements in the room. A classic tile backsplash with earthy tones is an excellent choice for this type of space. Natural stone such as travertine or slate can provide texture and visual interest while still maintaining a rustic feel. For those who prefer something more modern, glass tiles or metallic accents are great alternatives for adding color and contrast to the space. No matter what material you choose for your backsplash, make sure it reflects your personal style and fits in with the overall look of your farmhouse kitchen!
Benefits of a Backsplash in a Farmhouse Kitchen
A backsplash is an important feature for any kitchen, but it's especially important in a farmhouse kitchen. Not only does it add character and charm to the space, but it also has practical benefits. A backsplash serves as a barrier between food and the wall, protecting it from splatters and spills. It can also give your kitchen a polished, finished look while creating a visual focal point. Additionally, certain materials can even make cleaning easier by providing a smooth surface that wipes clean with minimal effort. When selecting a backsplash for your farmhouse kitchen, consider both style and function to ensure you get the perfect combination of form and function!
Popular Farmhouse Kitchen Backsplashes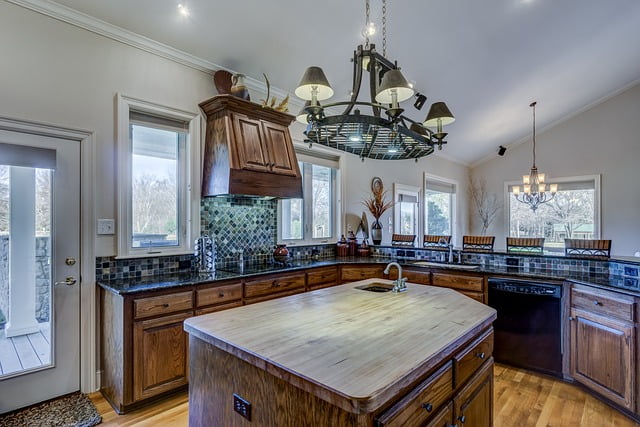 When it comes to selecting a backsplash for your farmhouse kitchen, there are plenty of stylish options to choose from. Popular choices include white subway tile, brick-look tiles, glass or stone mosaics, patterned encaustic tile, and even classic penny rounds. White subway tile is timeless and pairs well with both traditional and modern farmhouse kitchens. Brick-look tiles give the space an industrial edge while still maintaining a rustic feel. Glass or stone mosaics can add texture and color to the room while also making cleaning easier. Patterned encaustic tile brings in a pop of color and adds visual interest. And finally, classic penny rounds are perfect for creating a vintage look with their iconic circular shape. No matter what type of backsplash you choose, adding one will instantly elevate the style of your farmhouse kitchen!
White Subway Tiles
White subway tiles are one of the most popular choices for farmhouse kitchen backsplashes. They are a timeless option that pairs well with both traditional and modern farmhouse styles. White subway tiles create an airy and bright look while still maintaining a rustic feel. Their classic rectangular shape can be used to create a variety of patterns, such as herringbone or chevron. Subway tiles also make cleaning easier, as they have fewer grout lines than other types of tile. For those looking to add texture and interest, white subway tiles can be combined with glass, stone mosaic, or patterned encaustic tile accents. With their durability and versatility, it's no surprise why these classic tiles remain one of the most popular choices for farmhouse kitchen backsplashes!
White Cabinets with White Backsplash
White cabinets with white backsplash can be a classic and timeless choice for farmhouse kitchen designs. White cabinets provide a clean, airy backdrop that pairs well with the rustic elements of a farmhouse kitchen. The white backsplash adds texture and interest to the otherwise plain look of the cabinets. From subway tiles to diamond-shaped moroccan patterns, there are many different options for white backsplash materials that can help create an interesting yet subtle contrast. Depending on your style preferences, you can choose glossy ceramic tiles, textured glass mosaics, or even stone tiling in shades of gray and cream. With their versatility and durability, white cabinets with white backsplashes are an ideal choice for any farmhouse kitchen design!
Neutral Colors and White Shaker Cabinets
Neutral colors are a great way to create a timeless and minimalist look in your farmhouse kitchen. White shaker cabinets are a popular choice, as they provide a classic yet modern style while remaining neutral in color. To add texture and interest, pair the white shaker cabinets with a neutral backsplash. From cream-colored subway tiles to gray stone tiling, there are many options for creating an interesting yet subtle contrast against the bright white of the cabinets. For an extra pop of color, consider adding accents such as hardware or pendant lights in hues of bronze, copper or gold. With their versatility and durability, neutral colors and white shaker cabinets are sure to give your farmhouse kitchen design that perfect touch!
Glass Tile and White Tile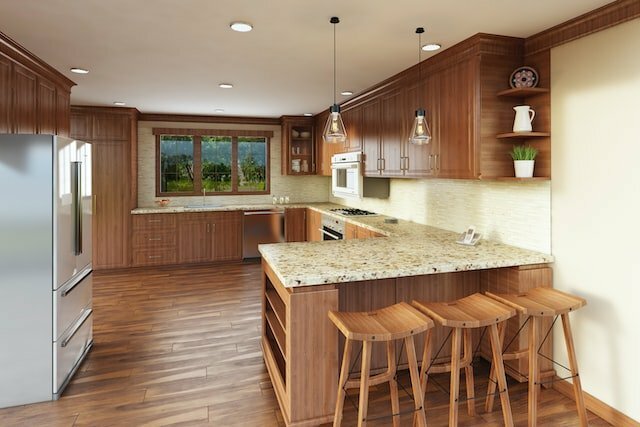 Glass tile is a great way to bring modern flair to your farmhouse kitchen. Whether you choose a classic white tile or opt for something bolder and more colorful, glass tile will add texture, dimension, and shine to your backsplash. White glass tiles are perfect for creating an airy look in the kitchen and will help reflect light around the room. For a more eclectic vibe, opt for colored glass tiles in shades of blue, green, or pink. Choose from mosaic patterns or try larger tiles for a more dramatic effect. When used with white shaker cabinets, glass tiles can create an eye-catching contrast that will take your farmhouse kitchen design to the next level.
Neutral Color Schemes and White Countertops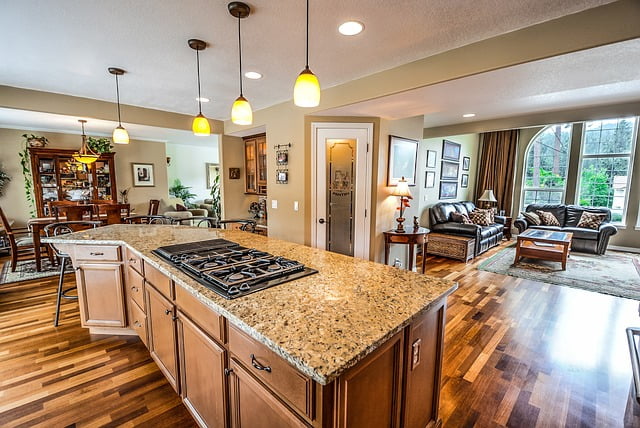 Neutral color schemes are a great choice for farmhouse kitchens. Whether you choose creams, whites, or grays, neutral tones are perfect for creating a timeless and inviting atmosphere in the kitchen. White countertops are an excellent addition to any farmhouse kitchen. Whether you opt for classic marble or quartz countertops to add elegance to your space or go for something more budget-friendly like laminate, white countertops can give your kitchen a light and airy feel. White countertops also provide the perfect backdrop for bolder backsplash options like colorful glass tiles or patterned stone. Finally, white countertops will help keep your kitchen looking clean and fresh while providing plenty of space to prepare meals and entertain guests.